The 11th Gent-Wevelgem for women had a world champion as winner. The Italian Balsamo sprinted to victory on the Vanackerestraat where she beat last year's winner Vos. The Italian Confalonieri finished in third place.
The women started their 11th edition of Gent-Wevelgem at 1:50 p.m. from under the Menin Gate. The breakaway formed quite early. The duo Khatuntseva (Roland Cogeas Edelweiss Squad) and Anne van Rooijen (Parkhotel Valkenburg) set off together towards the first-ever passage in the Moeren. The two cycled a maximum lead of just over 2 minutes together.
Their breakaway lasted up until 63 km from the finish line. After the first climb on the Scherpenberg their story was over and we got a general regrouping. Not much later a new front group formed with none other than Belgian champion and top favourite Kopecky. She was joined by Niewiadoma (Canyon // SRAM Racing), Henderson (Team Jumbo-Visma), Lippert (Team DSM), Arzuffi (Valcar Travel & Service) and Lach (Ceratizit - WNT Pro Cycling Team).
(continue reading below the picture)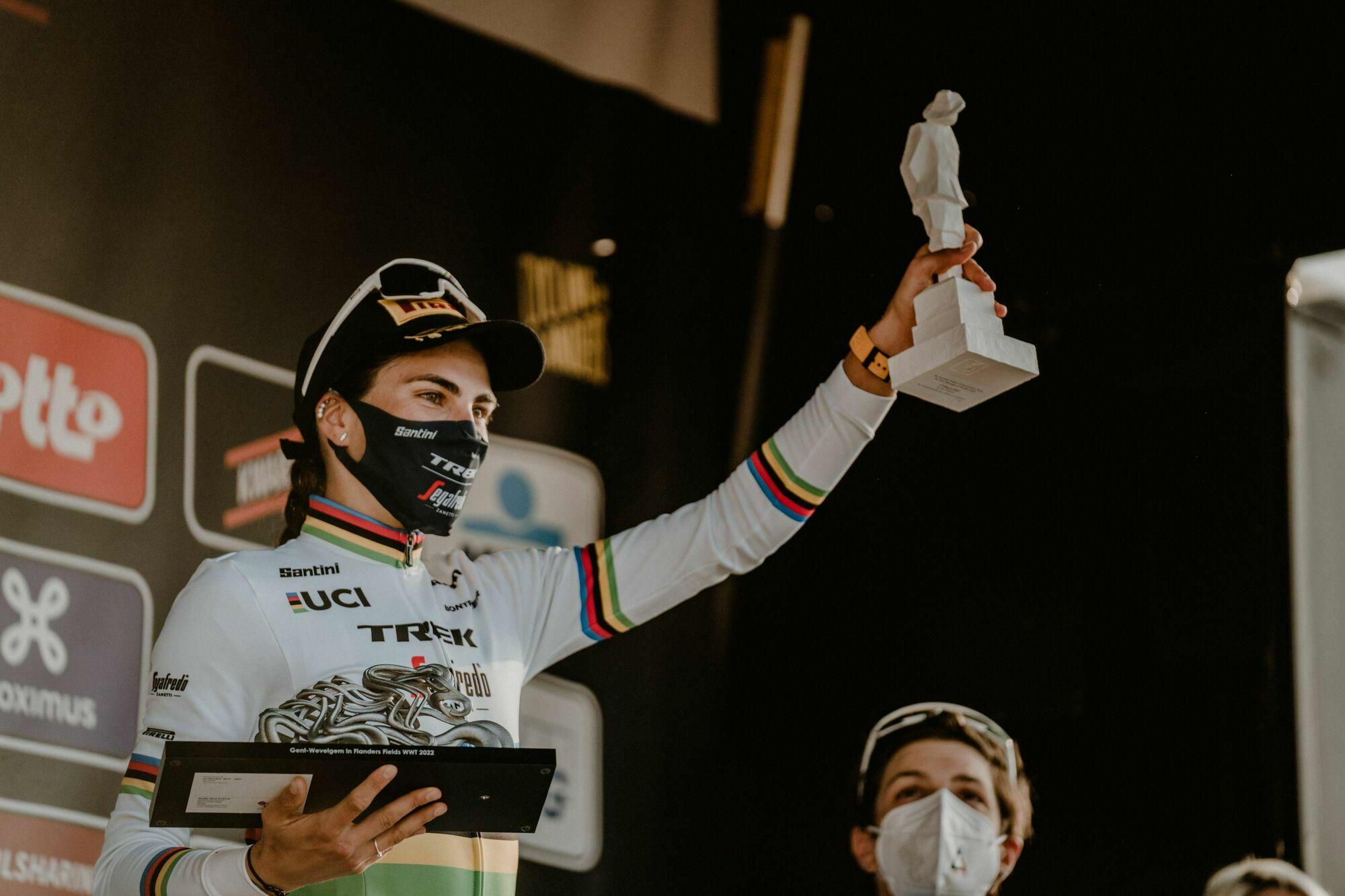 After the first climb of Mount Kemmel, Arzuffi and Lach had to drop out at the front. The difference between Kopecky and co. with the chasers was small. At the second climb of Scherpenberg we got another regrouping and the race could start over in the run-up to the second climb of Kemmelberg, where the women would face the steepest side, Ossuaire, for the first time.
Australian Brown (FDJ Nouvelle-Aquitaine Futuroscope) went for an ultimate breakaway in the final kilometres, but at 2 km from the finish her story was over. It would be a bunch sprint in Wevelgem. World champion Balsamo sprinted to victory in the 11th Gent-Wevelgem for women. She beat Vos and Confalonieri.