Women Elite race info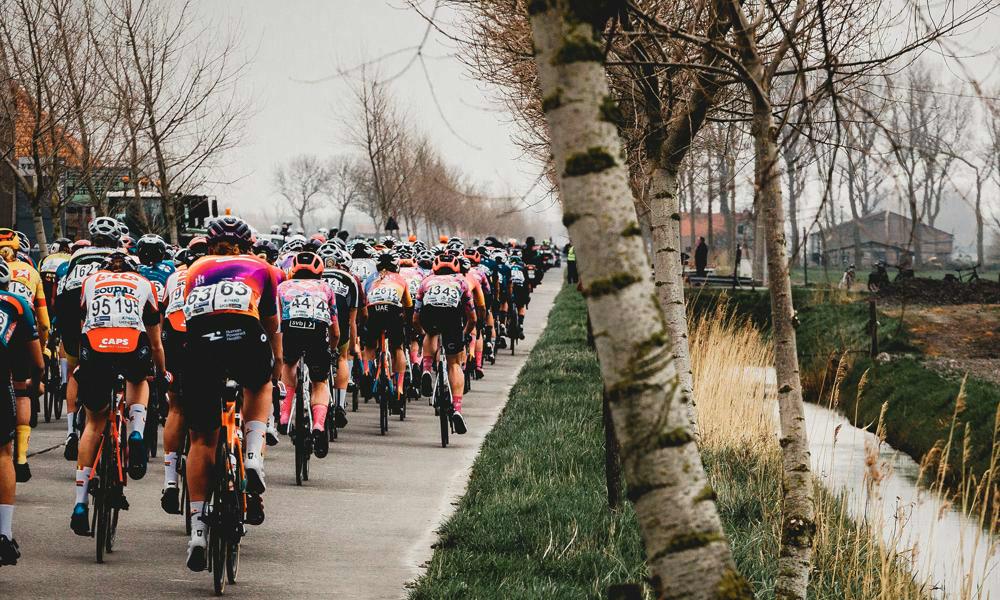 Course
As in previous editions, the peloton gets under way in Ypres, on 26 March. Under the imposing Menin Gate, out of respect for those who lost their lives in Flanders Fields, the race will be started not with a shot but with a flag. Last year, the women made their way through De Moeren for the first time. What's more, the steepest side of the Kemmelberg was also on the menu for the first time. This will not be different during the 2023 edition, nor will the fact that the WW1 monuments take the racing story to an exceptional height. Last year, Elisa Balsamo let her rainbow jersey shine on the Vanackerestraat in Wevelgem. Who will succeed the world champion?
Start: Menin Gate in Ypres – 13:50
Finish: Vanackerestraat in Wevelgem - around 18:04
Distance: 162,5 km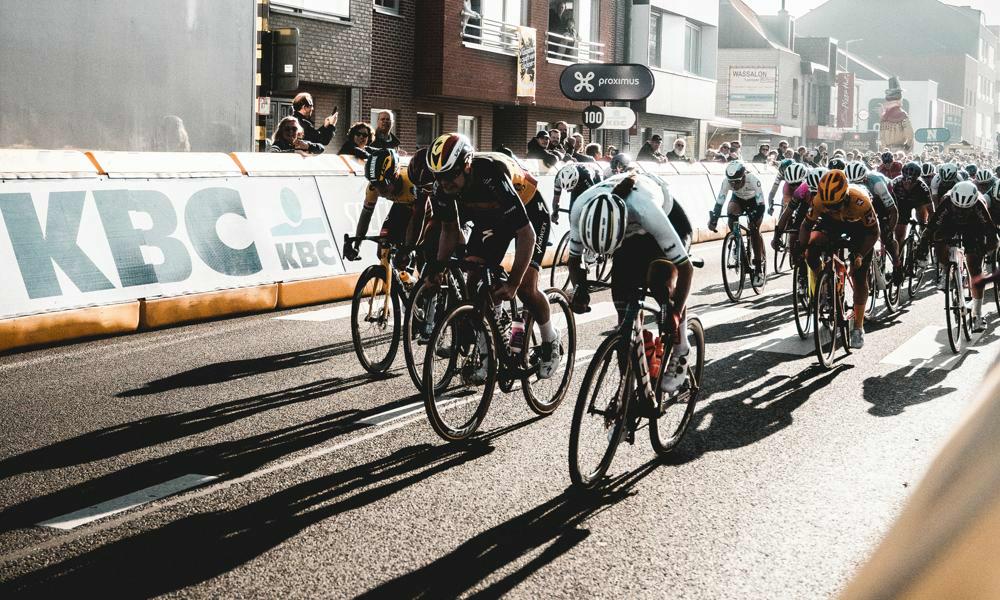 Fan guide
Looking for all the practical information about Gent-Wevelgem? Then download our free fan guide below. In this guide, you can consult the timetable and road map, and you can also read all about mobility and the not-to-be-missed team presentations. Read on quickly and be prepared for the start!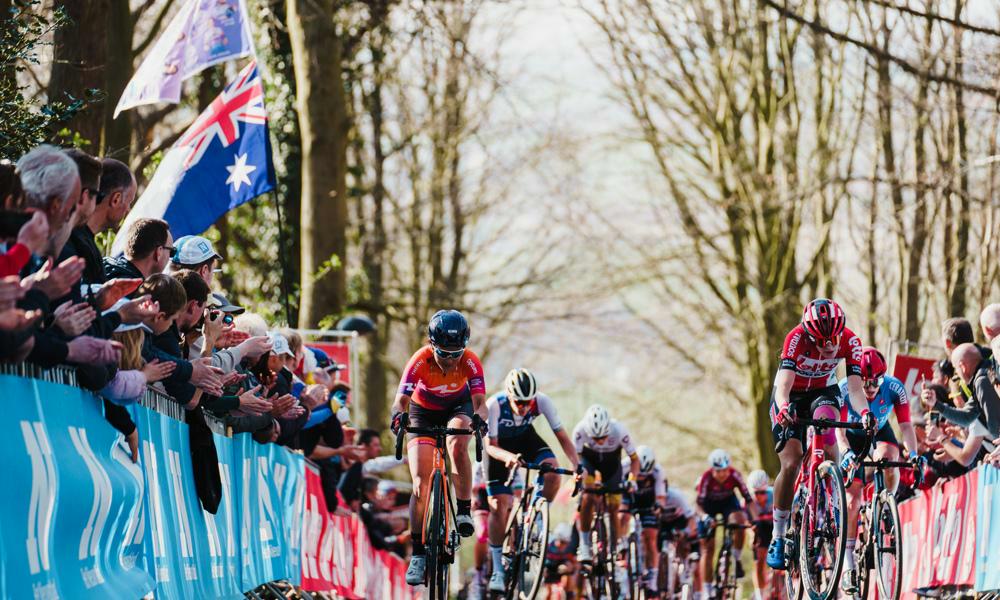 Participants
Who will follow in the footsteps of Elisa Balsamo on Sunday 26 March? Discover below the provisional start list of the Women Elite for Gent-Wevelgem.
1.
Elisa BALSAMO
2.
Lucinda BRAND
3.
Lisa KLEIN
4.
Brodie CHAPMAN
5.
Ilaria SANGUINETI
6.
Shirin VAN ANROOIJ
11.
Lotte KOPECKY
12.
Lorena WIEBES
13.
Marlen REUSSER
14.
Elena CECCHINI
15.
Christine MAJERUS
16.
Lonneke UNEKEN
21.
Marta BASTIANELLI
22.
Eleonora Camilla GASPARRINI
23.
Eugenia BUJAK
24.
Chiara CONSONNI
25.
Alena AMIALIUSIK
26.
Elizabeth HOLDEN
31.
Jane Zoe BACKSTEDT
32.
Letizia BORGHESI
33.
Clara HONSINGER
34.
Alison JACKSON
35.
Abi SMITH
36.
Lauren STEPHENS
41.
Rebecca KOERNER
42.
Elinor BARKER
43.
Maria Giulia CONFALONIERI
44.
Amalie DIDERIKSEN
45.
Anniina AHTOSALO
46.
Norman Julie LETH
51.
Teuntje BEEKHUIS
52.
Anna HENDERSON
53.
Linda RIEDMANN
54.
Coryn RIVERA
55.
Noemi RÜEGG
56.
Karlijn SWINKELS
61.
Jessica ALLEN
62.
Letizia PATERNOSTER
63.
Georgina HOWE
64.
Nina KESSLER
65.
Alexandra MANLY
66.
Ruby ROSEMAN-GANNON
71.
Alice Maria ARZUFFI
72.
Franziska BRAUßE
73.
Mylene DE ZOETE
74.
Arianna FIDANZA
75.
Marta LACH
76.
Lea Lin TEUTENBERG
81.
Martina ALZINI
82.
Victoire BERTEAU
83.
Alana CASTRIQUE
84.
Valentine FORTIN
85.
Gabrielle PILOTE-FORTIN
86.
Josie TALBOT
91.
Margaux VIGIE
92.
Ella HARRIS
93.
Kate RICHARDSON
94.
Kaja RYSZ
95.
Ella WYLLIE
96.
Typhaine LAURANCE
101.
Nicole FRAIN
102.
Femke GERRITSE
103.
Quinty SCHOENS
104.
Kirstie VAN HAAFTEN
105.
Marith VANHOVE
106.
Margot VANPACHTENBEKE
111.
Ilse GRIT
112.
Trine HOLMSGAARD
113.
Judith KRAHL
114.
Deborah VEERMAN
115.
Nienke WASMUS
116.
Céline VAN HOUTUM
121.
Stine BORGLI
122.
Grace BROWN
123.
Marta CAVALLI
124.
Clara COPPONI
125.
Eugénie DUVAL
126.
Emilia FAHLIN
131.
Wilma AINTILA
132.
Katrijn DE CLERCQ
133.
Mieke DOCX
134.
Marla SIGMUND
135.
Quinty VAN DE GUCHTE
136.
Kristýna BURLOVÁ
141.
Millie COUZENS
142.
Yara KASTELIJN
143.
Julie DE WILDE
144.
Evy KUIJPERS
145.
Christina SCHWEINBERGER
146.
Marthe TRUYEN
151.
Alice BARNES
152.
Daria PIKULIK
153.
Marit RAAIJMAKERS
154.
Kaia SCHMID
155.
Jesse VANDENBULCKE
156.
Lily WILLIAMS
161.
Mia GRIFFIN
162.
Nathalie EKLUND
163.
Fien DELBAERE
164.
Hannah BUCH
165.
Elena PIRRONE
166.
Thi That NGUYEN
171.
Rachele BARBIERI
172.
Eva BUURMAN
173.
Katia RAGUSA
174.
Valerie DEMEY
175.
Silke SMULDERS
176.
Quinty TON
181.
Aude BIANNIC
182.
Alicia GONZALEZ BLANCO
183.
Arlenis SIERRA CANADILLA
184.
Lourdes OYARBIDE JIMENEZ
185.
Sheyla GUTIERREZ RUIZ
186.
Gloria RODRIGUEZ SANCHEZ
191.
Shari BOSSUYT
192.
Tiffany CROMWELL
193.
Elise CHABBEY
194.
Katarzyna NIEWIADOMA
195.
Agnieszka SKALNIAK-SOJKA
196.
Maike VAN DER DUIN
201.
Pfeiffer GEORGI
202.
Daniek HENGEVELD
203.
Megan JASTRAB
204.
Franziska KOCH
205.
Charlotte KOOL
206.
Maeve PLOUFFE
211.
Maaike BOOGAARD
212.
Julia BORGSTRÖM
213.
Lotta HENTTALA
214.
Romy KASPER
215.
Maud RIJNBEEK
216.
Ally WOLLASTON
221.
Maggie COLES-LYSTER
222.
Audrey CORDON RAGOT
223.
Danielle DE FRANCESCO
224.
Michaela DRUMMOND
225.
Lucie JOUNIER
226.
Mareille MEIJERING
231.
Nathalie BEX
232.
Malin ERIKSEN
233.
Danique BRAAM
234.
Antonia GRÖNDAHL
235.
Elizabeth Andrea MARTINEZ LOPEZ
236.
Kelly VAN DEN STEEN
1.
Elisa Balsamo
2.
Marianne Vos
3.
Maria Giulia Confalonieri
4.
Lotte Kopecky
5.
Cecile Emma Bjerg
6.
Marta Bastianelli
7.
Susanne Andersen
8.
Tamara Dronova
9.
Silvia Persico
10.
Clara Copponi
Results 2022
The 11th edition of Gent-Wevelgem for women had something new in store for the peloton. For the first time, the women rode from Ypres to the Moeren and the steep side of the Kemmelberg was also on the programme. At about 60 km from the finish line, a leading group appeared to form including Belgian champion and number one favourite Kopecky, but their story ended on the second climb of the Scherpenberg. The last and steepest passage on the Kemmelberg did not cause any separation and so the peloton moved on as a group to the finish in Wevelgem. There it was world champion Balsamo who had the sprint in hand and she let the rainbow jersey shine on the Vanackerestraat.
Sporza, RTBF
Czech TV
TV2
L'Equipe
NOS
JOJ
SRG SSR
ESPN
South America
Flosports
Flosports
Flosports, SBS
SKY
Supersport
Sub-Saharan Africa
ESPN
Caribbean
ESPN
Eurosport / GCN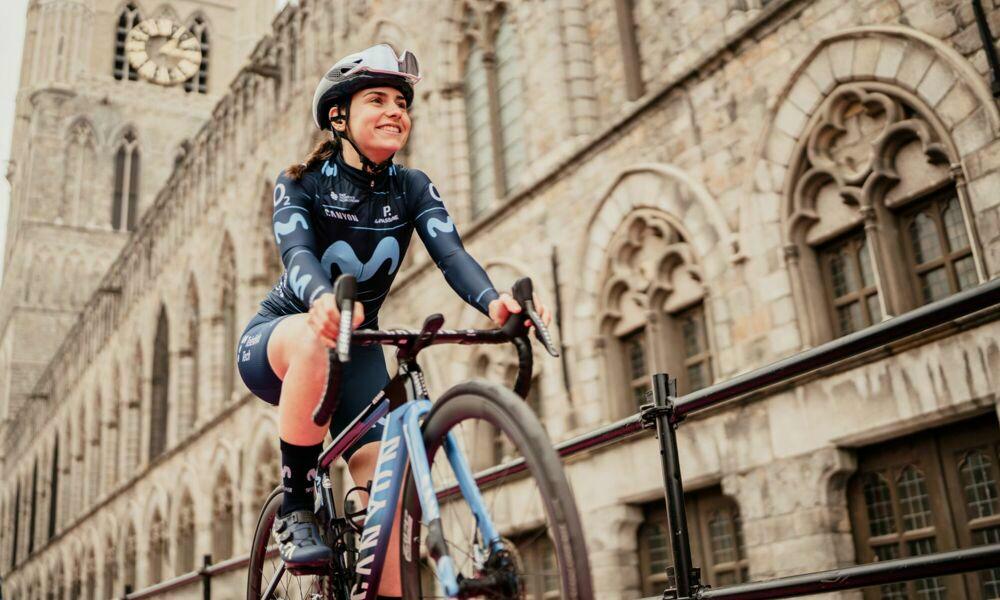 Programme
On Sunday 26 March, the Westhoek will be completely under the spell of Gent-Wevelgem. With seven races in Flanders Fields, there is plenty going on in both Ypres and Wevelgem. Discover the programme for a well-filled day of racing below.
The Grote Markt in Ypres will once again be the place to be on Sunday 26 March. After we have introduced all the professional teams one by one on the starting podium, we will fire the starting shot under the Menin Gate for a new edition of Gent-Wevelgem in Flanders Fields. Ypres will be under the spell of cycling all day as, in addition to the professional races, five youth categories will also give their best in and around the City of Peace.
8:40: Start of the GP Andre Noyelle Men U19 at Menin Gate
9:00: Men Elite team presentation on the Grote Markt with Linde Merckpoel, Max Vryens and DJ ProudMich
10:00: Start of Kattekoers Ieper Men U23 at Menin Gate
10:00: Start of the Women U17 - local circuit in Boezinge (sub-municipality of Ypres)
10:50: Start of the Men Elite
11:45: Start of the Women U19 - local circuit in Boezinge (sub-municipality of Ypres)
12:10: Women Elite team presentation on the Grote Markt with Linde Merckpoel, Max Vryens and DJ ProudMich
13:50: Start of the Women Elite
14:30: Start of the Men U17 - local circuit in Boezinge (sub-municipality of Ypres)
16:14: Men Elite passage on the Grote Markt & race on big screens
17:26: Women Elite passage on the Grote Markt & race on big screens
On Friday 24 March you can attend the Gent-Wevelgem Opening night in the centre of Wevelgem:
6:30 p.m. – 7 p.m.: Registration of participants for the relay race
7 p.m. – 8:30 p.m.: Relay race for associations on an illuminated and decorated circuit
8:30 p.m. – 9 p.m.: Free ride for those who are not members of an association
9:15 p.m.: Podium award ceremony
9:30 p.m. – 10 p.m.: Drinks with music at Guldenbergplein
You can register for the relay race here.
On Saturday 25 March, it's time for a ride steeped in history through Flanders' fields. Do you fancy warming up the Kemmelberg and Plugstreets one day before the pros during the Gent-Wevelgem Cyclo? Hurry up and sign up here!
Experience Gent-Wevelgem from the fan zone on the Guldenbergplein in Wevelgem on Sunday 26 March:
10:00: Opening of the fan zone Guldenbergplein
11:28: Passage through Moorsele Men Elite
11:38: Passage through Gullegem Men Elite
13:00: Balance bike competition
16:48: Earliest anticipated finish Men Elite
18:04: Earliest anticipated finish Women Elite
20:00: End of the Guldenbergplein programme
On Sunday 26 March, a day before Gent-Wevelgem, we are organising an Early riders balance bike competition in Wevelgem for the very youngest cycling talents. Would you like to give your son or daughter a unique experience in the professional setting of Gent-Wevelgem? We have four age categories:
Boys born in 2018 or 2019
Boys born in 2020 or 2021
Girls born in 2018 or 2019
Girls born in 2020 or 2021
The first balance bike race will start at 13:00. Those who are registered can sign in between 12:00 and 12:45 in the arrival zone on the Vanackerestraat in Wevelgem. Please note that wearing a helmet is mandatory for all participants. After the race, we will reward all the cyclists with a goodie bag, which they receive on the official Gent-Wevelgem podium.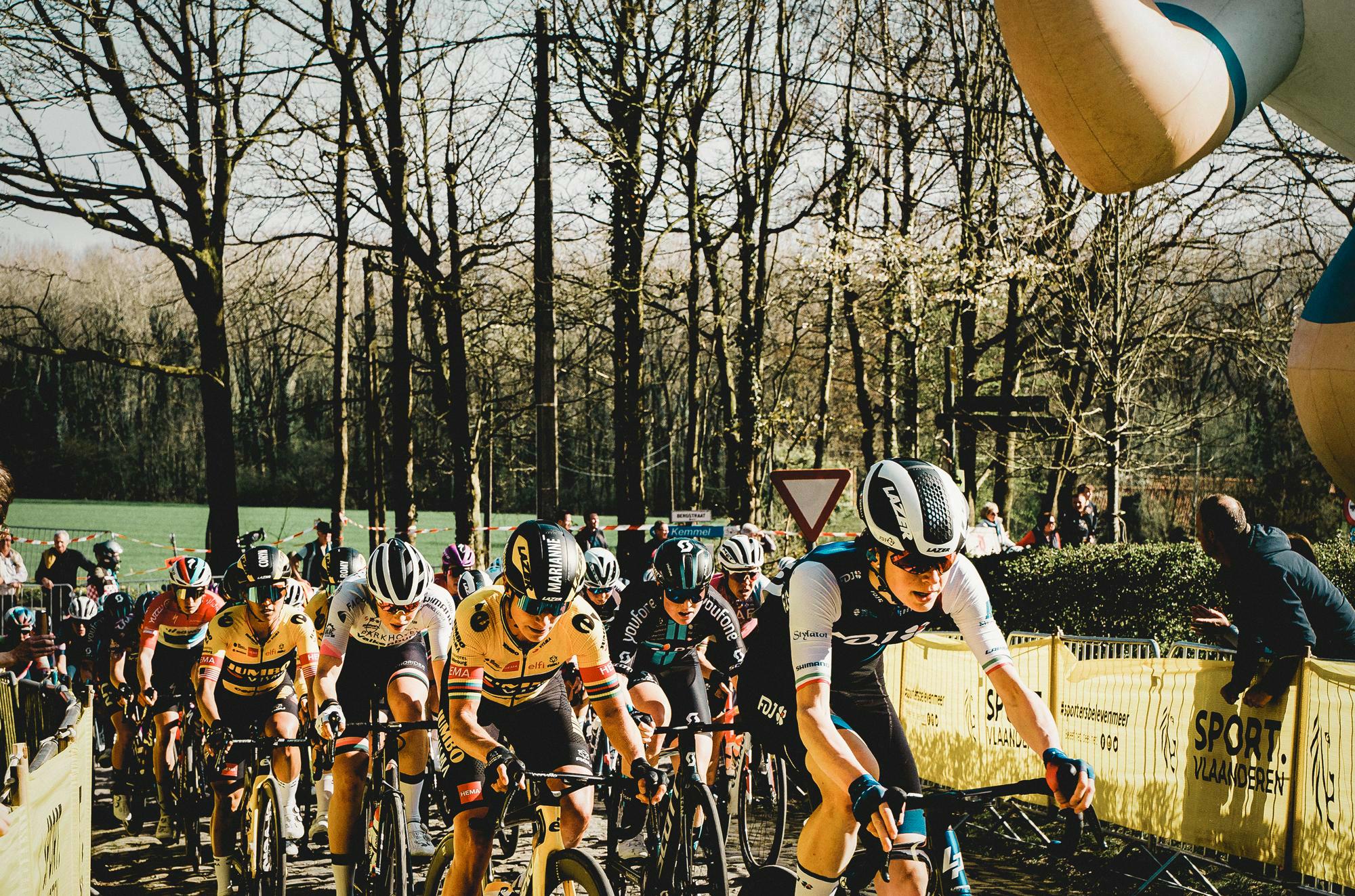 Experience Gent-Wevelgem as a VIP
Discover what we have in store to combine enjoyment and networking during Gent-Wevelgem 2023. Read on and discover our VIP formulas. Ready for an unforgettable experience in the middle of the race?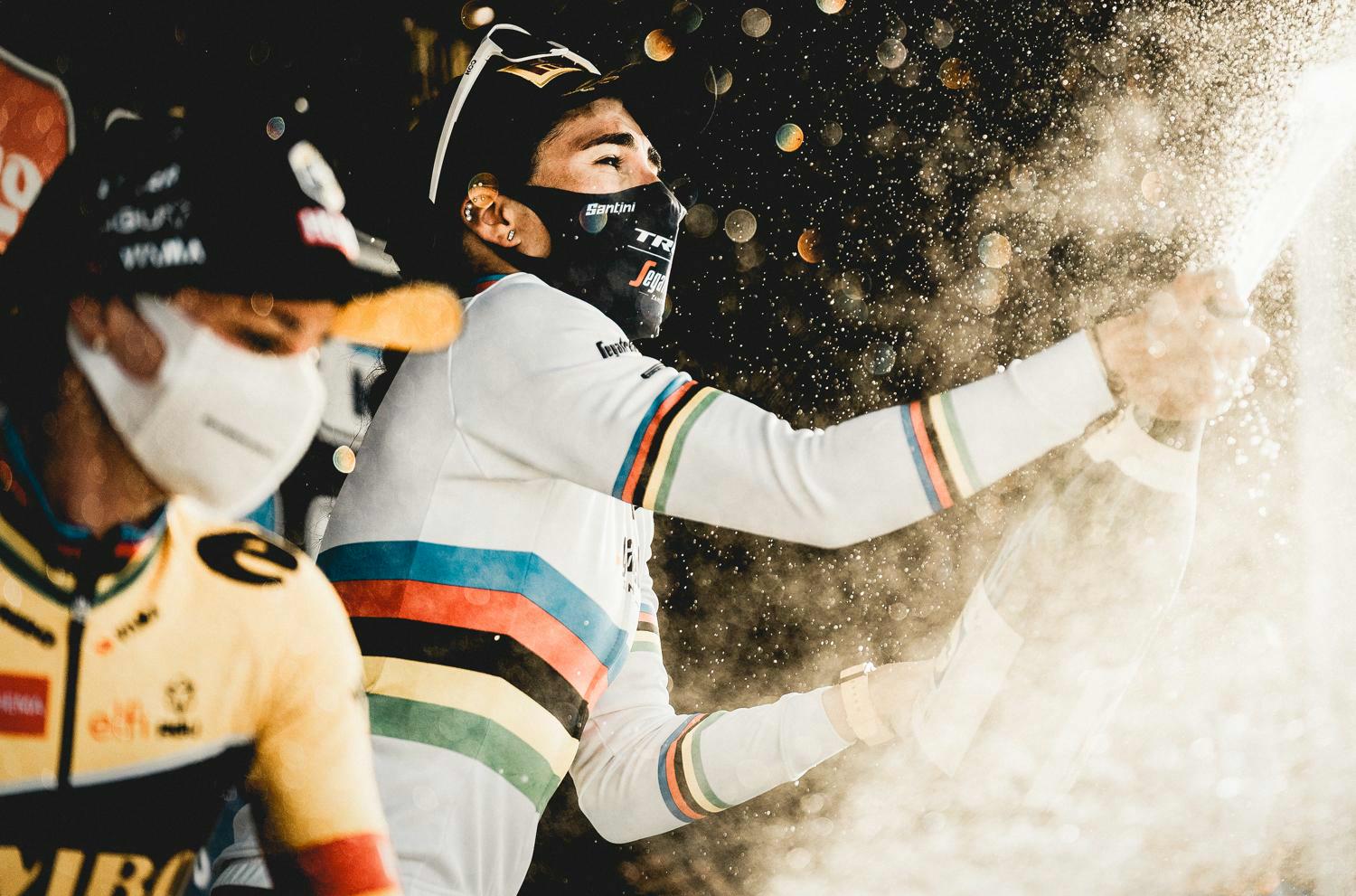 Sporting challenge in the middle of world history
On Saturday 25 March, you can explore the circuit of the spring classic between Ypres and Wevelgem for yourself. Gent-Wevelgem Sportive is the ride where world history and sporting challenge go hand in hand. Register now and test your legs on the Kemmelberg, one day before the pros.