Men Elite race info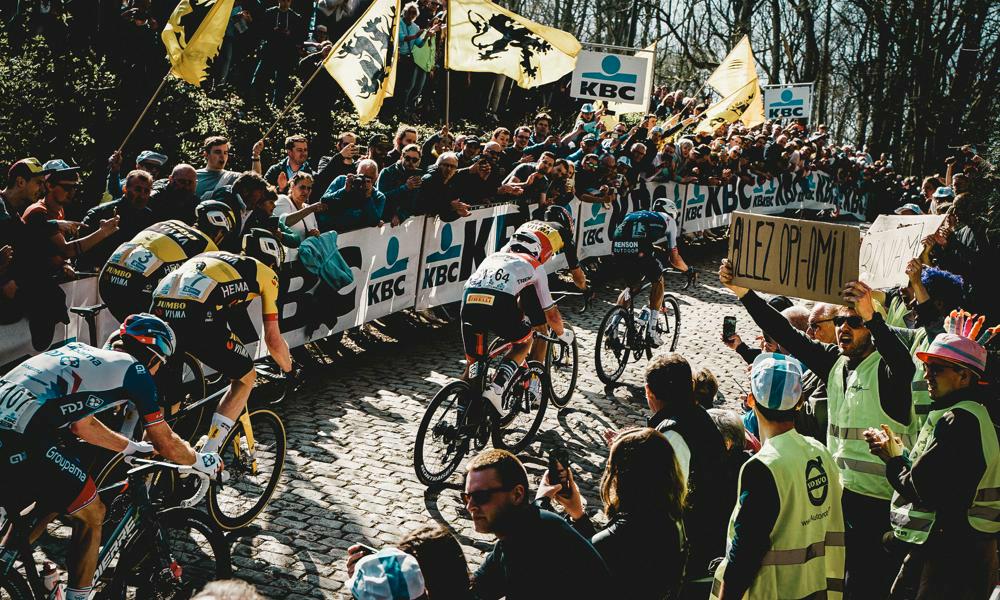 Course
Ghent-Wevelgem in Flanders Fields starts in Ypres and reaches its conclusion on the Vanackerestraat in Wevelgem. In the first part of the race, the peloton heads towards Veurne, where the famous Moeren stands on the programme. The riders then set course for the Heuvelland where, along the way, they will encounter the Monteberg, the Baneberg, the Scherpenberg and, last but not least, the Kemmelberg. The Plugstreets and numerous monuments dedicated to WWI make this race through Flanders Fields one that is unique in the calendar. Last year, Biniam Girmay made cycling history in Wevelgem by becoming the first African rider to win a spring classic.
Start: Menin Gate in Ypres - 10:50
Finish: Vanackerestraat in Wevelgem - around 16:48
Distance: 260,9 km
Fan guide
Looking for all the practical information about Gent-Wevelgem? Then download our free fan guide below. In this guide, you can consult the timetable and road map, and you can also read all about mobility and the not-to-be-missed start presentations. Read on quickly and be prepared for the start!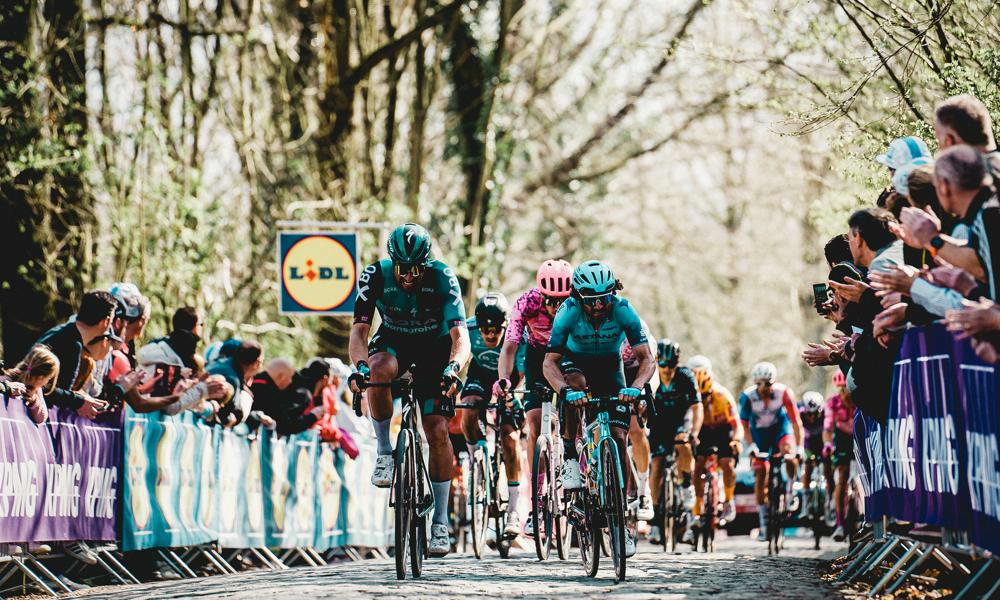 Participants
Who will follow in the footsteps of Biniam Girmay on Sunday 26 March? Discover below the provisional start list for a new edition of Gent-Wevelgem.
1.
Biniam GIRMAY
2.
Sven Erik BYSTRØM
3.
Aime DE GENDT
4.
Hugo PAGE
5.
Adrien PETIT
6.
Mike TEUNISSEN
7.
Taco VAN DER HOORN
11.
Tim MERLIER
12.
Yves LAMPAERT
13.
Kasper ASGREEN
14.
Davide BALLERINI
15.
Phillip Casper PEDERSEN
16.
Jannik STEIMLE
17.
Bert VAN LERBERGHE
21.
Jasper PHILIPSEN
22.
Silvan DILLIER
23.
Robbe GHYS
24.
Søren KRAGH ANDERSEN
25.
Alexander KRIEGER
26.
Maurice BALLERSTEDT
27.
Gianni VERMEERSCH
31.
Wout VAN AERT
32.
Christophe LAPORTE
33.
Olav KOOIJ
34.
Timo ROOSEN
35.
Tim VAN DIJKE
36.
Jos VAN EMDEN
37.
Nathan VAN HOOYDONCK
41.
Greg VAN AVERMAET
42.
Pierre GAUTHERAT
43.
Lawrence NAESEN
44.
Oliver NAESEN
45.
Valentin RETAILLEAU
46.
Damien TOUZE
47.
Stan DEWULF
51.
Jasper STUYVEN
52.
Markus HOELGAARD
53.
Daan HOOLE
54.
Alex KIRSCH
55.
Mads PEDERSEN
56.
Otto VERGAERDE
57.
Edward THEUNS
61.
Mark CAVENDISH
62.
Cees BOL
63.
Leonardo BASSO
64.
Yevgeniy FEDOROV
65.
Dmitriy GRUZDEV
66.
Martin LAAS
67.
Gleb SYRITSA
71.
Matej MOHORIC
72.
Kamil GRADEK
73.
Jonathan MILAN
74.
Nikias ARNDT
75.
Andrea PASQUALON
76.
Dusan RAJOVIC
77.
Fred WRIGHT
81.
Sam BENNETT
82.
Marco HALLER
83.
Bob JUNGELS
84.
Jordi MEEUS
85.
Ryan MULLEN
86.
Nils POLITT
87.
Danny VAN POPPEL
91.
Piet ALLEGAERT
92.
Simone CONSONNI
93.
Wesley KREDER
94.
Christophe NOPPE
95.
Pierre Luc PERICHON
96.
Alexis RENARD
97.
Jelle WALLAYS
101.
Alberto BETTIOL
102.
Stefan BISSEGGER
103.
Owain DOULL
104.
Marijn VAN DEN BERG
105.
Jonas RUTSCH
106.
Tom SCULLY
107.
Lukasz WISNIOWSKI
111.
Arnaud DEMARE
112.
Lewis ASKEY
113.
Stefan KÜNG
114.
Olivier LE GAC
115.
Fabian LIENHARD
116.
Jake STEWART
117.
Samuel WATSON
121.
Filippo GANNA
122.
Kim Alexander HEIDUK
123.
Michal KWIATKOWSKI
124.
Jhonatan Manuel NARVAEZ PRADO
125.
Magnus SHEFFIELD
126.
Connor SWIFT
127.
Ben TURNER
131.
Fernando GAVIRIA RENDON
132.
Ivan GARCIA CORTINA
133.
Imanol ERVITI
134.
Johan JACOBS
135.
Norsgaard Mathias JØRGENSEN
136.
Max KANTER
137.
Oier LAZKANO LOPEZ
141.
Kevin LEDANOIS
142.
Andrii PONOMAR
143.
David DEKKER
144.
Jenthe BIERMANS
145.
Daniel MCLAY
146.
Luca MOZZATO
147.
Clément RUSSO
151.
John DEGENKOLB
152.
Patrick BEVIN
153.
Pavel BITTNER
154.
Lund Tobias ANDRESEN
155.
Nils EEKHOFF
156.
Casper VAN UDEN
157.
Kevin VERMAERKE
161.
Dylan GROENEWEGEN
162.
Luka MEZGEC
163.
Blake QUICK
164.
Elmar REINDERS
165.
Campbell STEWART
166.
Zdeněk ŠTYBAR
167.
Kelland O'BRIEN
171.
Tim WELLENS
172.
Pascal ACKERMANN
173.
Matteo TRENTIN
174.
Vegard Stake LAENGEN
175.
Juan Sebastian MOLANO BENAVIDES
176.
Ryan GIBBONS
177.
Mikkel BJERG
181.
Arnaud DE LIE
182.
Caleb EWAN
183.
Cedric BEULLENS
184.
Jasper DE BUYST
185.
Frederik FRISON
186.
Brent VAN MOER
187.
Florian VERMEERSCH
191.
Ruben APERS
193.
Alex COLMAN
194.
Sander DE PESTEL
195.
Milan FRETIN
196.
Jules HESTERS
197.
Aaron VAN POUCKE
201.
Louis BLOUWE
202.
Ceriel DESAL
203.
Dorian DE MAEGHT
204.
Ludovic ROBEET
205.
Luca VAN BOVEN
206.
Guillaume VAN KEIRSBULCK
207.
Julian MERTENS
211.
Stephen BASSETT
212.
Adam DE VOS
213.
Colin JOYCE
214.
Bart LEMMEN
215.
Benjamin PERRY
216.
Sebastian SCHÖNBERGER
217.
Gijs VAN HOECKE
221.
Sep VANMARCKE
222.
Hugo HOULE
223.
Giacomo NIZZOLO
224.
Jens REYNDERS
225.
Tom VAN ASBROECK
226.
Guillaume BOIVIN
227.
Rick ZABEL
231.
Alexander KRISTOFF
232.
Kristoffer HALVORSEN
233.
Urianstad Martin Urianstad BUGGE
234.
Erik Nordsaeter RESELL
235.
Søren WÆRENSKJOLD
236.
Anders SKAARSETH
237.
Rasmus TILLER
241.
Peter SAGAN
242.
Edvald BOASSON-HAGEN
243.
Daniel OSS
244.
Maciej BODNAR
245.
Geoffrey SOUPE
246.
Anthony TURGIS
247.
Dries VAN GESTEL
1.
Biniam Girmay
2.
Christophe Laporte
3.
Dries Van Gestel
4.
Jasper Stuyven
5.
Soren Kragh Andersen
6.
Tim Merlier
7.
Mads Pedersen
8.
Ivan Garcia Cortina
9.
Matej Mohoric
10.
Arnaud Démare
Results
In 2022, a piece of cycling history was written between Ypres and Wevelgem. The 84th edition of Gent-Wevelgem in Flanders Fields broke open during the first climb of the Kemmelberg. It was Greg Van Avermaet who was first to try to shake things up among the favourites. From then on, there was attack after attack. Wout van Aert, among others, tried it, but that group was caught. Shortly after the passage in Ypres, the break occurred. A leading group of four got away and would sprint for victory in Wevelgem. It was the Eritrean Biniam Girmay who proved to be the fastest, and thus became the first African cyclist ever to win a Flemish spring classic.
Sporza, RTBF
Czech TV
TV2
L'Equipe
NOS
JOJ
SRG SSR
ESPN
South America
ESPN
Central America
Flosports
Flosports
Flosports, SBS
SKY
Supersport
Sub-Saharan Africa
Eurosport / GCN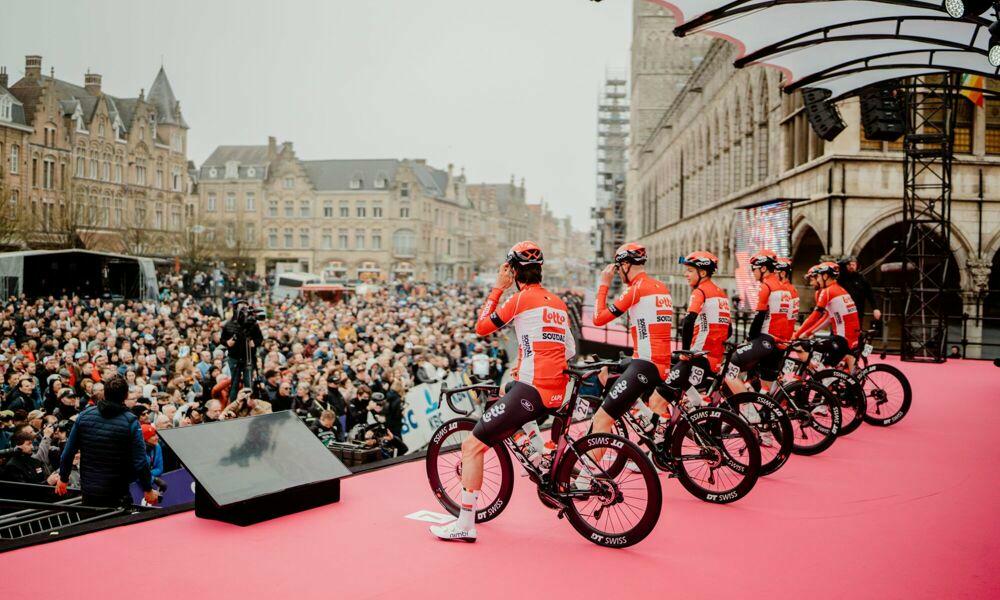 Programme
On Sunday 26 March, the Westhoek will be completely under the spell of Gent-Wevelgem. With seven races in Flanders Fields, there is plenty going on in both Ypres and Wevelgem. Discover the programme for a well-filled day of racing below.
The Grote Markt in Ypres will once again be the place to be on Sunday 26 March. After we have introduced all the professional teams one by one on the starting podium, we will fire the starting shot under the Menin Gate for a new edition of Gent-Wevelgem in Flanders Fields. Ypres will be under the spell of cycling all day as, in addition to the professional races, five youth categories will also give their best in and around the City of Peace.
7:30: Men U19 team presentation at Grote Markt
8:15: Men U23 team presentation at Grote Markt
8:40: Start of the GP Andre Noyelle Men U19 at Menin Gate
9:00: Men Elite team presentation on the Grote Markt with Linde Merckpoel, Max Vryens and DJ ProudMich
10:00: Start of Kattekoers Ieper Men U23 at Menin Gate
10:00: Start of the Women U17 - local circuit in Boezinge (sub-municipality of Ypres)
10:50: Start of the Men Elite
11:45: Start of the Women U19 - local circuit in Boezinge (sub-municipality of Ypres)
12:00: Finish Men U19
12:10: Women Elite team presentation on the Grote Markt with Linde Merckpoel, Max Vryens and DJ ProudMich
13:50: Start of the Women Elite
14:26: Finish Men U23
14:30: Start of the Men U17 - local circuit in Boezinge (sub-municipality of Ypres)
16:14: Men Elite passage on the Grote Markt & race on big screens
17:26: Women Elite passage on the Grote Markt & race on big screens
On Friday 24 March you can attend the Gent-Wevelgem Opening night in the centre of Wevelgem:
6:30 p.m. – 7 p.m.: Registration of participants for the relay race
7 p.m. – 8:30 p.m.: Relay race for associations on an illuminated and decorated circuit
8:30 p.m. – 9 p.m.: Free ride for those who are not members of an association
9:15 p.m.: Podium award ceremony
9:30 p.m. – 10 p.m.: Drinks with music at Guldenbergplein
You can register for the relay race here.
On Saturday 25 March, it's time for a ride steeped in history through Flanders' fields. Do you fancy warming up the Kemmelberg and Plugstreets one day before the pros during the Gent-Wevelgem Cyclo? Hurry up and sign up here!
Experience Gent-Wevelgem from the fan zone on the Guldenbergplein in Wevelgem on Sunday 26 March:
10:00: Opening of the fan zone Guldenbergplein
11:28: Passage through Moorsele Men Elite
11:38: Passage through Gullegem Men Elite
13:00: Balance bike competition
16:48: Earliest anticipated finish Men Elite
18:04: Earliest anticipated finish Women Elite
20:00: End of the Guldenbergplein programme
On Sunday 26 March we are organising an Early riders balance bike competition in Wevelgem for the very youngest cycling talents. Would you like to give your son or daughter a unique experience in the professional setting of Gent-Wevelgem? We have four age categories:
Boys born in 2018 or 2019
Boys born in 2020 or 2021
Girls born in 2018 or 2019
Girls born in 2020 or 2021
The first balance bike race will start at 13:00. Those who are registered can sign in between 12:00 and 12:45 in the arrival zone on the Vanackerestraat in Wevelgem. Please note that wearing a helmet is mandatory for all participants. After the race, we will reward all the cyclists with a goodie bag, which they receive on the official Gent-Wevelgem podium.
After the start under the Menin Gate in Ypres, the men's peloton will head to Moorsele, where they will race via Ledegemstraat to Sint-Jansstraat before heading to Gullegem via Secretaris Vanmarckelaan. The riders are expected there around 11:30.
Local cafés and associations will provide drink and food stands at the intersection Sint-Jansstraat and Warandestraat from 10:30. The street band of 'Kunst naar Vermogen' will provide music and Streetmagic Joppe, GameBoy and De Poetsploeg will provide ambiance. Thanks to Games Club 13, there will also be children's entertainment and you can watch the race on a big screen.
After passing through Moorsele, the riders ride via Hondschotestraat to the Dorpsplein and Bissegemstraat in Gullegem, before leaving Wevelgem until the final kilometers via the Rijksweg.

Also in Gullegem, cafes and associations will provide drinks and food. De Twoapegerapte provide the atmosphere. Marcel Cyclette, La mer Perdue and Games Club 13 will provide entertainment for young and old. There is no need to miss anything from the race here.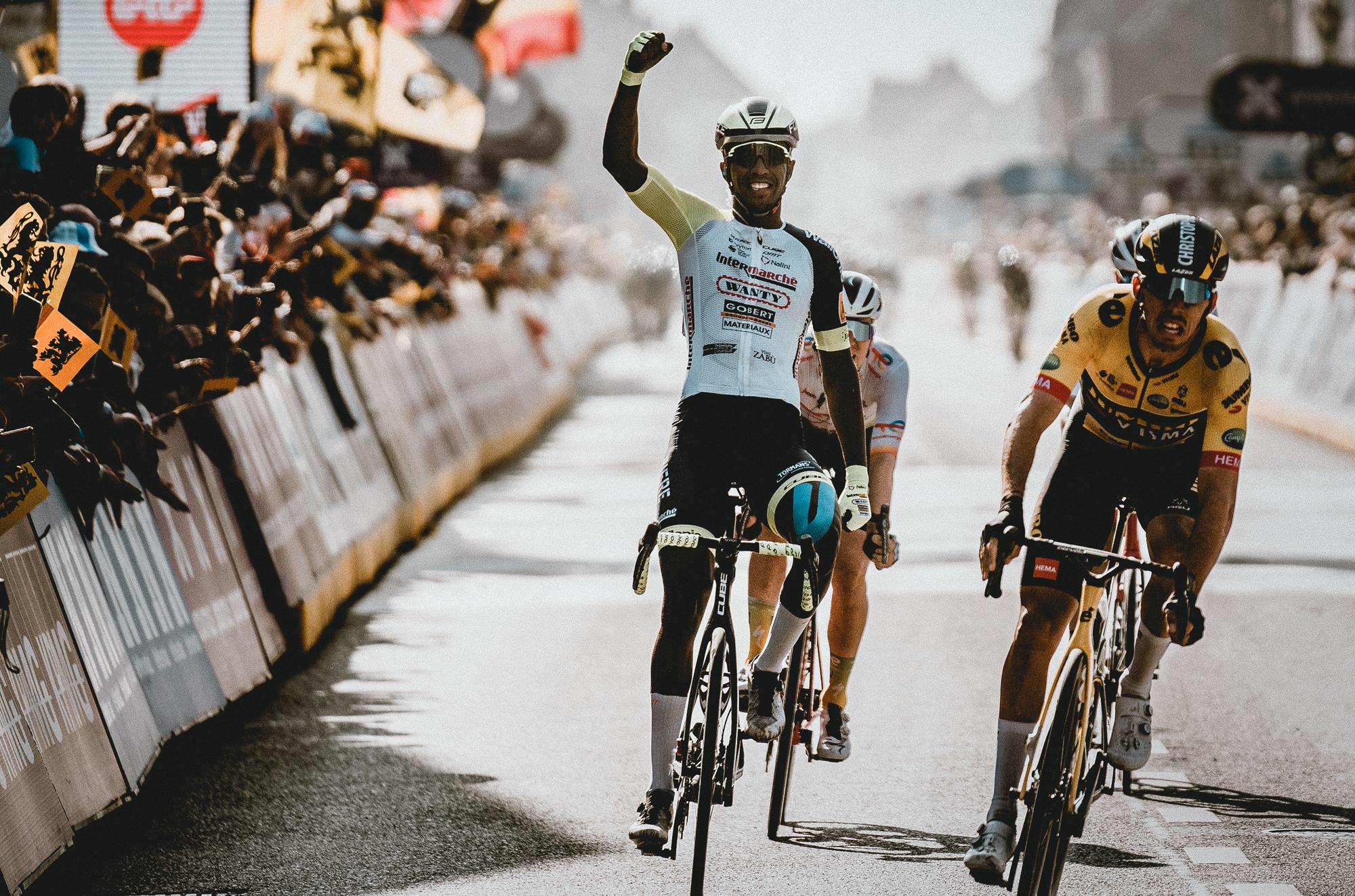 Experience Gent-Wevelgem as a VIP
Discover what we have in store to combine enjoyment and networking during Gent-Wevelgem 2023. Read on and discover our VIP formulas. Ready for an unforgettable experience in the middle of the race?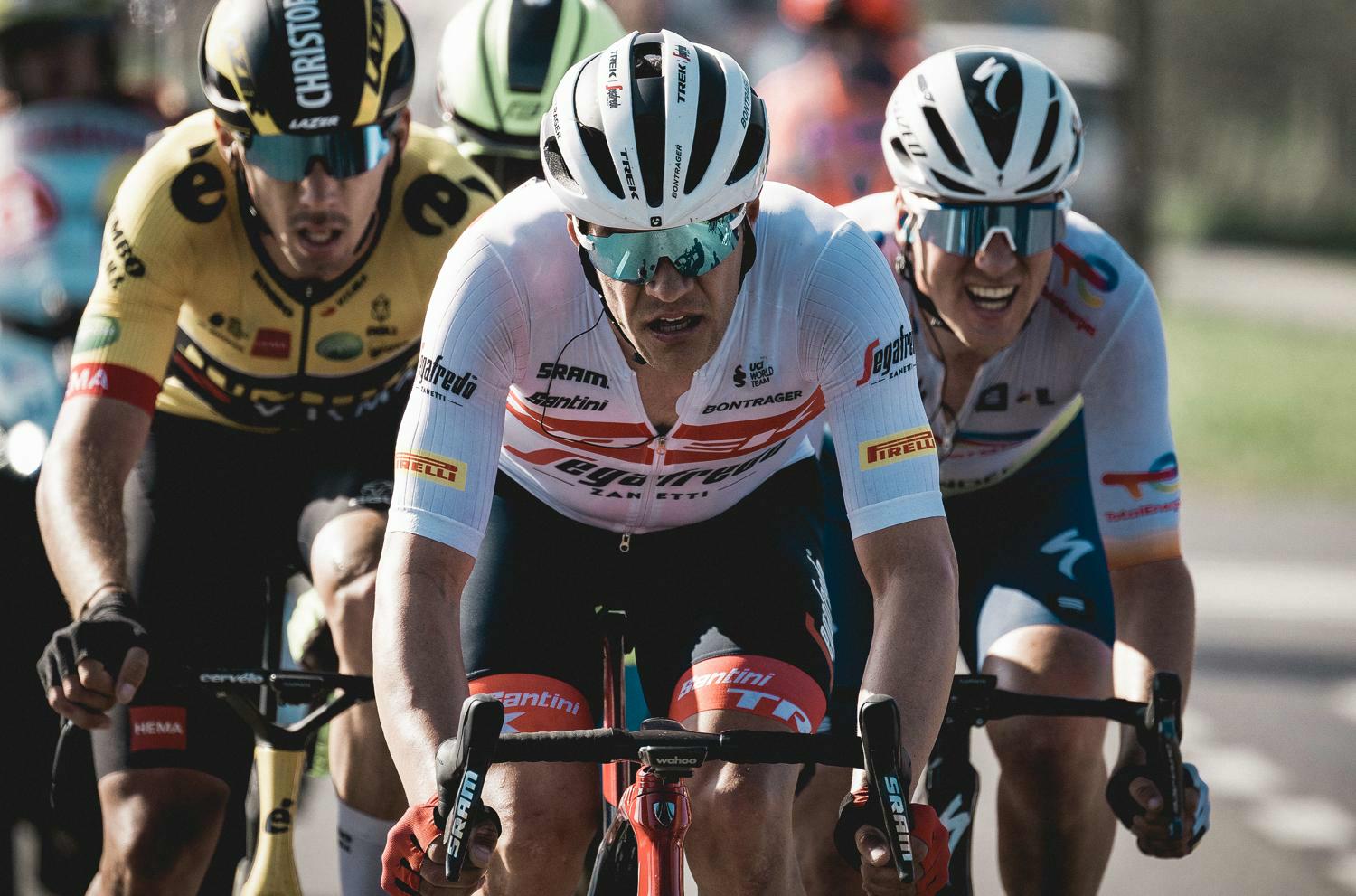 Sporting challenge in the middle of world history
On Saturday 25 March, you can explore the circuit of the spring classic between Ypres and Wevelgem for yourself. Gent-Wevelgem Sportive is the ride where world history and sporting challenge go hand in hand. Register now and test your legs on the Kemmelberg, one day before the pros.